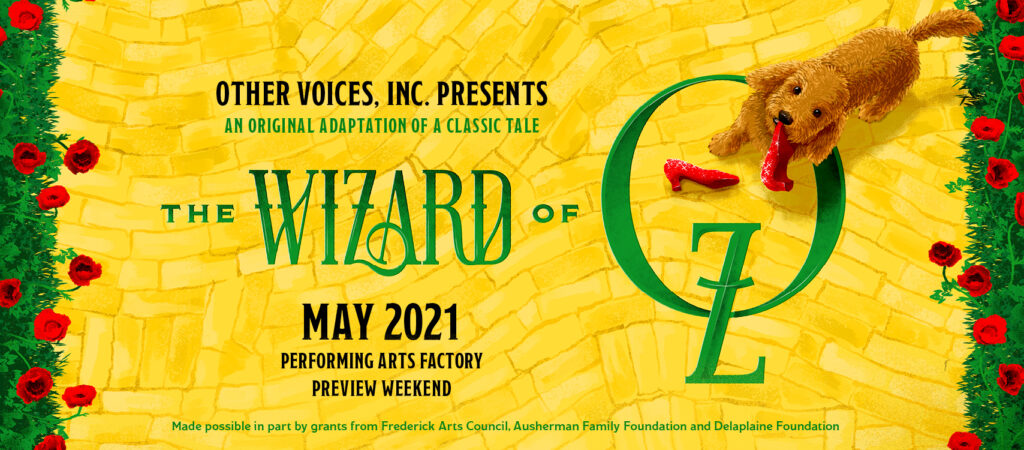 Other Voices, Inc. trips down Frederick's own Yellow Brick Road presenting an outdoor preview of their new, vibrant version of the Wizard of Oz! For just one day, the Wizard of Oz preview will be at the Performing Arts Factory at 244 South Jefferson Street, Frederick, Maryland on Saturday, May 1, 2021 with show times at 2:00 p.m. & 6:00 p.m.
This original, musical adaptation of the classic tale features high energy dance numbers, witty dialogue and elaborate costumes and promises safe family fun for everyone!
This special preview weekend production features the full cast of theater goer favorites from the tri-state area including, Steve Steele (Wizard of Oz), Amy Hebb (Cowardly Lion), Thomas Bricker (Tinman), Shawn Nakia (Scarecrow), Adam Blackstock (Toto), Amanda Patten (Glinda), Susan Thornton (Wicked Witch of the West) and introducing Kailee Akee as Dorothy. Direction and choreography by Donna B. Grim.
This performance is partially enabled by grants from Frederick Arts Council, The Ausherman Foundation and Footlights Dance & Theatre Boutique.
All performances will be in compliance with COVD-19 CDC guidelines and precautions for the safety of our performers and patrons. Tickets are available per parking lot space, ranging from $20 – $30 and can be purchased at www.showtix4u.com. Parking spaces may accommodate up to 4 people. Vehicle spots will also be available.  Age 2 & under do not need a ticket and do not count in the 4 person total per parking space. RAIN DATE MAY 2nd.
Don't miss this one-of-a-kind preview, before the cyclone drops Dorothy and friends at the Weinberg Center for the Frederick premier, Spring 2022!