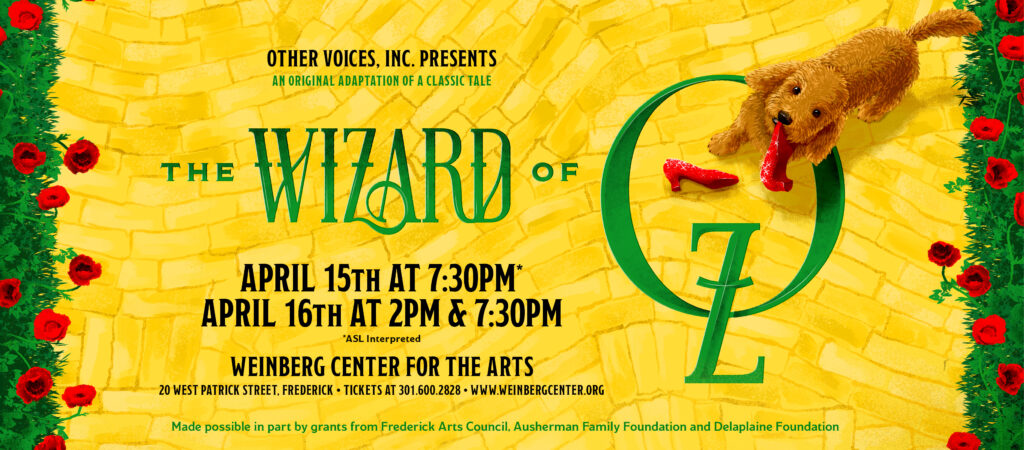 Other Voices Inc. brings to Frederick a new, original adaptation of The Wizard of Oz! Dorothy, Toto and other well-known favorites land on the Weinberg stage, and audiences will be thrilled to meet new characters pulled from the original works of L. Frank Baum. The Wizard of Oz is the perfect family event for the Easter holiday weekend with 2 hours with high-energy dance, music, special effects and clever dialogue as you travel from Kansas to the Emerald City and back again with Dorothy and friends! 
This inaugural production features theater goer favorites from the tri-state area including, Steve Steele (Wizard of Oz), Amy Hebb (Cowardly Lion), Dan Henderson (Tinman), Shawn Nakia (Scarecrow), Adam Blackstock (Toto), Amanda Patten (Glinda), Susan Thornton (Wicked Witch of the West) and introducing Kailee Akee as Dorothy. Direction and choreography by Donna B. Grim, featuring the Dance Unlimited Repertory Company.
The Wizard of Oz will be in performance at the Weinberg Center for the Arts, 20 West Patrick Street, Frederick, Maryland on Friday, April 15, 2022 at 7:30 p.m. and Saturday, April 16, 2022 at 2:00 p.m. and 7:30 p.m. All performances include a Meet and Greet with the characters after. Friday's 7:30 p.m. show will be an ASL-interpreted performance, partially enabled by a grant from the Frederick Arts Council. Tickets range from $16-$30. To purchase tickets visit the Weinberg online at www.weinbergcenter.org.