UPDATED Summer Dance & Acting Schedule: Session 2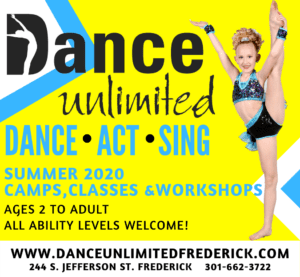 SESSION 2: July 27 thru August 20
Now taking registration!
All classes & workshops have a limited number of spaces in order to be in compliance with the current pandemic restrictions and guidelines. SECURE YOUR SPOT EARLY! All payments must be made at the time of registration (online) as no payments will be accepted in person in order to avoid any unnecessary contact. 
---
Dance Unlimited Health and Wellness Policies – Summer 2020
Please review so you're familiar with our policies prior to arrival and can guide your dancer.  We shall offer a high standard of best practices to ensure a clean and safe environment.  All of the following procedures and policies are subject to change as new CDC guidelines become available.  
UPON ARRIVAL 
Students should enter building no sooner than 5 minutes prior to class.  Entrance & Departure doors will be clearly marked.  Please remain in cars or social distance 6 feet outside while waiting.

Any students showing any signs of illness – even mild – need to stay home.  

Masks are required of all staff, parents, and dancers age 7 and older in all public areas – hallway, bathrooms.

Upon entering their dance studio – students must use hand sanitizer at studio door.

Young dancer classes (Tiny Tots thru Primary) are not required to wear masks for class and may remove when they enter their studio.  Older dancers will be asked to wear masks in class – unless class size is very low and spacing is greater than 6 feet per instructor. 

Students will need to bring as little as possible to studio. The cubby area will be regularly sanitized throughout the day.

Best practice is to wear dance clothes under street clothes. 

Students may not wear outside shoes in dance studios.  Dance shoes only.  No bare feet.  

Students will use hand sanitizer at conclusion of class. 

At the end of each class, teachers will clean floors, barres, shelves, door handles. 

Dance teachers will let students out one at a time and then a staff member will be outside with them helping to find their cars. 

Weather and dance style permitting – we may conduct a portion of some teen classes outside.
FACILITY
All studios are clearly labelled allowing for 6' of space for each student.  

Mats and floors in use will be cleaned in between all classes.

All door handles, sinks, and handrails will be regularly disinfected throughout the day.

Classes are scheduled with varying start times to allow for social distancing in the lobby. 

Parents are asked to remain in their cars.  Parents of younger classes may walk dancers to class maintaining social distancing.

Parents uncomfortable entering building may park at curb and wait for staff to come out to your car. 

The Café & Dressing Rooms will be closed.  
FAMILY POLICIES
Parents are responsible to ensure that their child is healthy before coming to class

One adult per family is permitted to be in the building for young dancers.  

Adults must maintain 6' of space and wear a mask at all times.

Prompt pick up & drop off is imperative.  Please remain in your car until 5 minutes before class, and pickup within 5 minutes of class ending.
COVID-19 SPECIFICS
Communicate any significant illness to Dance Unlimited to help us monitor our community health