News & Events
---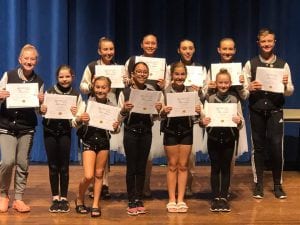 CONGRATULATIONS TO OUR SCHOLARSHIP WINNERS!
Members of the Dance Unlimited Repertory Company (DURC) recently participated in the 2019 Maryland Council for Dance Annual Festival and Scholarship Auditions held at Goucher College. Kailee Akee, 14, received second-place honors and was awarded a full scholarship to the Ballet Theatre of Maryland's six-week summer session as well as a cash prize. Alaina Kenney, 11, received a full scholarship to the summer session at Theatre Dance Company of Harlem at City Dance in Rockville, and Rebecca Charbonneau, 14, received a full scholarship to the Eastern Shore Dance Academy Ballet Intensive. DURC students took home over $6,700 in scholarship opportunities at the end of the three-day workshop.
In the front row, from left: Lily Nelson, Emily Spurrier, Alaina Kenney, Sophie Nilges, Annabelle MoyerPitts and Kayla Shoemaker.
In the back row: Laila Kenney, Kailee Akee, Kendel Wickline, Rebecca Charbonneau and Andrew Seaton.
---
FROZEN JR (9/7 – 11/23, no class 10/12) Musical Theatre Workshop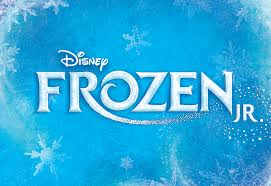 Registration begins Thursday, August 1st for our fall Musical Theatre Workshop of FROZEN JR.
Bring the beloved characters of Disney's FROZEN to life! Anna, Elsa, Olaf and all the memorable songs you love from the movie come together in this enchanting tale of love and acceptance between sisters. Join us for an 11 week musical theatre experience! Actors will continue to develop their skills through rehearsals, theatre exercises, intro to dance and vocal instruction, culminating in a magical production of FROZEN JR. Our Musical Theatre Workshops are very popular and do sell out so don't wait to sign up. Performances will be held on Saturday, November 23rd at 6:00pm and Sunday, November 24th at 2:00pm in our 115 seat state of the art theatre. All participating students receive a FROZEN JR workshop t-shirt.
Click here to go straight to the FROZEN JR WORKSHOP PAGE
---
CONGRATULATIONS to all the dancers who won an award at this years recital: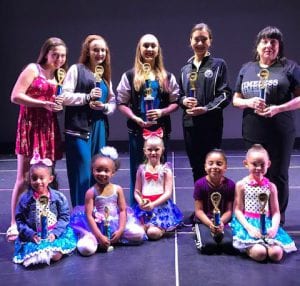 Student Achievement Awards:
Senna Wood (Tiny Tot/PreK), Sofia Walsh (KDanz), Siena Detterline (Primary), Mia Fuentes (Elementary), Sophia Vanderhuff (PreTeen), Megan Chang (Teen), Lana Cross (Adult)
Most Improved:
Norah Buchanan (Tiny Tot/PreK), Elisa Hernandez (KDanz), Alyson Rice (Primary), Christina Mooney (Elementary), Jordin White (PreTeen), Abby Carioti (Teen), Megan Baker (Adult)
STUDIO ACHIEVEMENT WINNER: JAMIE SEATON
---
Fall 2019 Registration is OPEN!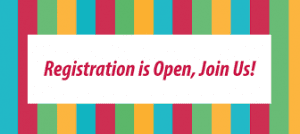 Check out all of our classes, ages 2 1/2 through Adult!
We've got something for everyone – from the beginner to the advanced competition dancer.
CLASSES START SATURDAY, AUGUST 31st for the 2019-2020 season
(closed Monday, September 2nd for Labor Day)
---
INTO THE WOODS JR (Musical Theatre Workshop performance)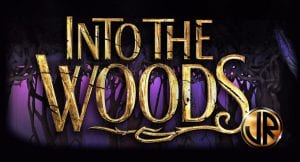 SATURDAY JULY 20, 2019 / 2:00pm and 6:00pm
Come see 30 talented young performers in their production of INTO THE WOODS JR, the final culmination of a two week workshop here at Dance Unlimited. Performances will be held in our 115 seat theatre.
For tickets, go to www.ShowTix4U.com and search Into the Woods Dance Unlimited
---
Dance Unlimited applauds the following dancers for receiving a score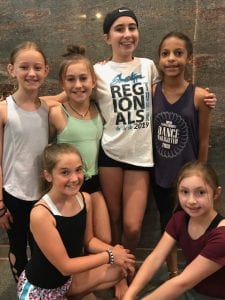 of 100% on their end of the year Junior Ballet exam:
Laila Kenney (level 3A*), Kayla Shoemaker (level 2A), Alaina Kenney (level 2A), Nadia Hurt (level 1A),
Annabelle Moyer-Pitts (level 2A), Sophia Smith (level 1A) and Skyler Thompson (level 1A)
*The Jr Ballet 3A test has 100 spelling words and 100 multiple choice definitions.