What to expect from Dance Unlimited during the COVID-19 pandemic… Our goal has always been – and continues to be – to educate & share our love of dance and the performing arts in a safe, secure and nurturing environment.
CLICK HERE TO GET A VIEW FROM THE INSIDE
In a time when things are constantly changing, you can still count on the same Dance Unlimited… We continue to be both JOYFUL and CAUTIOUS about our time spent in the studio with our dance and acting families. We've been going above and beyond to ensure a clean, safe and welcoming environment for our students to continue their classes.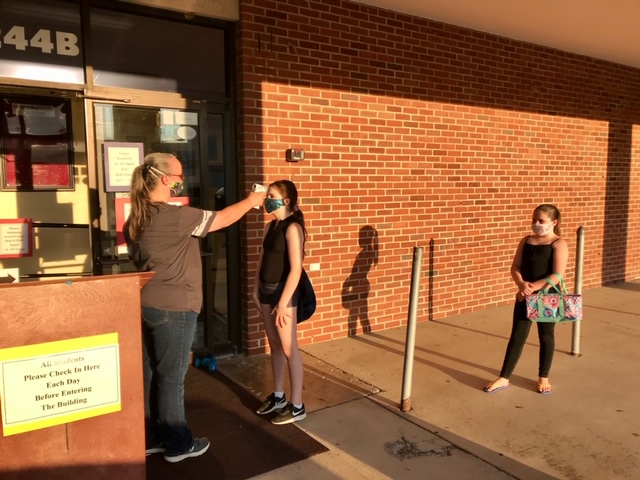 Anyone who enters the building must have their temperature checked at the door. Doors will open 5 minutes prior to the start of each class. You can choose to wait in your car or socially distanced on our front sidewalk.. Entrance and Exit doors are clearly marked.
Anyone (age 2 and up) must wear a mask at all times. This is in keeping with the current CDC guidelines.
Upon entering their dance studio, students must use hand sanitizer at the studio door. We are asking that you bring as little as possible to the studio. It's best to arrive to the studio dressed and ready to go as the dressing rooms remain closed during this time.
All studios are taped off in 6 foot squares in order to maintain proper social distancing recommendations. Class sizes are limited in order to achieve a proper physical distance as well.
Classes are scheduled so as to allow time for cleaning/disinfecting and allow students to finish and leave the studio before the next set of students arrive.
At the end of each class, teachers and office staff will clean and sanitize floors, barres, shelves, door handles, stereo equipment, etc in every studio.
All waiting areas are closed and reserved for dancers with multiple classes. This will ensure that they have a safe/disinfection place to be. Therefore, we ask that parents wait in their car while their student is in class, with the exception of very young or new dancers.